Home Sellers, can we talk? You want to get the most money possible fromthe sale of your house, right? And youwant it sold as quickly as possible, right? Duh! That's why I created thiscool and easy-to-use tool to help you determine how well your house will be receivedby potential buyers, what price range you can expect to get for it, how quicklyit will sell and what you can do in the pre-listing stage to maximize thesethings.
Please take a moment to absorb my home selling tool below.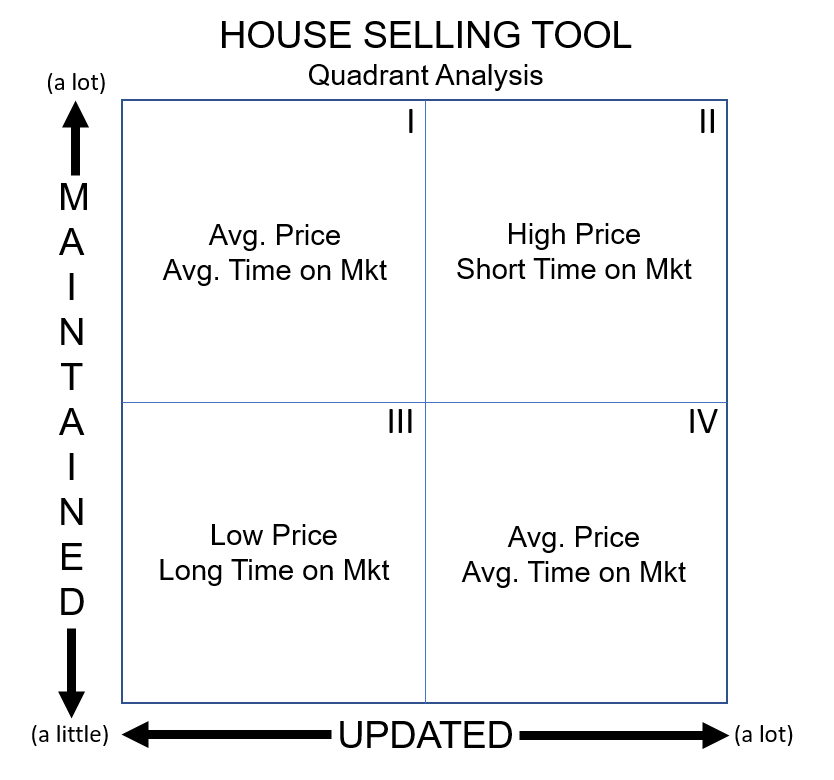 How it works
The Price you get for yourhouse, how long it takes to sell and how well it will be received by potentialbuyers (traffic, excitement, buzz, etc.) is mainly influenced by two things(ok…four if you count location and upgrades!): Updates and Maintenance.
UPDATES — How well you'vestayed current on the main trends in home styling. Although these items are cosmetic in naturethey are nonetheless important inpresenting your house well to potential buyers. If your house is updated, congratulations, you will find it plotted inquadrants II or IV in the House Selling Tool. HINT: Up and to the right (quadrantII) is where you want to be!
The main home styling trendsthat have occurred during the past 20 years
·PAINT: Beige, neutral tones TO gray and "greige" neutraltones
·COUNTER TOPS: Laminate, Corian TO Granite, Quartz
·APPLIANCES: White TO Stainless Steel
·FLOORING: Carpet TO Hardwoods
·FLOORING: Light, narrow planked hardwoods TO Darker,wider hardwoods
·CABINETS: White, light tones TO Darker wood tones TOWhite, putty, gray tones
MAINTENANCE – How well you'vekept up the functioning portion of your house. Did you repair everything that broke? Did you replace your hot water heater, HVACsystem(s) and/or roof when they got to the end of their useful lives? Have you kept up the exterior maintenancereplacing any water damaged wood, keeping the windows, trim and siding caulkedand keeping the landscaping in check? Ifso, congratulations again! Awell-maintained home will fall in quadrants I or II.
The Home Selling Tool quadrantthat your house ends up in will tell you – relative to other like homes forsale in your area (this is important) – what to expect in terms of price, dayson market and interest.
For example, if your homeplotted in quadrant I (it is well maintained, but not updated) it will spend anaverage amount of time on the market and garner an average sales price. To take this further, if like homes in yourcommunity are selling between $400k — $500k and they sell between 10-60 dayson the market, you might expect yours will sell in the $440k-$460k range inroughly 30-40 days. Make sense?
So, use this tool to set yourown expectations and/or to prepare your house for sale before putting it on themarket so that you get the most money possible out of it.
POP QUIZ: Which of the four quadrants do you want to bein? If you responded "II" you get a goldstar!
Please keep me in mind whenyou're ready to sell your house.
Solid Footing Realty was started in 2015 by Mark Panetta, a Cumming Listing Specialist and REALTOR with Keller Williams Realty Community Partners. He specializes in helping you improve your financial stability in the decade before retirement by "right-sizing" your house at the appropriate time.